(4 days/3 nights)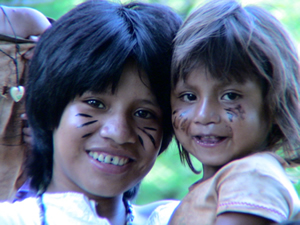 Three nights including the navigation through the waters of the Jungle, hikes exploring the wonderful and colorful details of this environment, sharing experiences with representatives of the Guaraní Community, who have decided to share their history and to show the Jungle to us from their cosmovision.
Yacutinga Lodge has been providing interesting ecotourism services while protecting the resources of Fauna and Flora present at our Reserve for many years, and, although our environmentalist guides offer an exceptional level of information, we always thought that we need to emphasize more on the native culture of the area. The Guaraní Culture. Therefore, years ago we decided to start a relationship with our neighbors, the Community Guaraní Kagui Pora, several years of getting to know each other , of understanding and helping each other.
The result is a very nice relation and we decided to integrate this Community more into the eco-touristic concept of Yacutinga following modern rules of responsible and sustainable tourism. With pride we present you this new itinerary, ideal for all visitors wishing to enjoy the Misiones Jungle in a genuine and comfortable way.