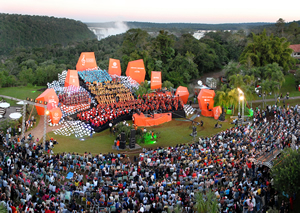 "Iguazu en Concierto" is a music festival of juvenile choirs and orchestras. Seven hundred teens and children arrive from the five continents to play on a wonderful scenario; the Iguassu Waterfalls and the Atlantic Jungle in its maximum potencial.
During 6 uninterrupted days, different free concerts can be watched in different hotels in the area.
As a final act, the choirs join the orchestra to play a wonderful concert in front of the waterfalls, truly a show you must not miss.
This event counts with the presence of big Argentinian music personalities, such as Elena Roger who was the godmother in the year 2013. She did various interpretations during the festival, including her acting in the final concert next to the seven hundred children and teens. In the 2012, Gustavo Santaolla had the privilege role of playing in the final concert with the children.