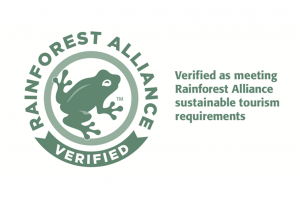 After 15 years of leading ecotourism, we are proud to announce that we met for the second consecutive year with the Rainforest Alliance verification. The standard Rainforest Alliance verification is approved by the Global Sustainable Tourism Council, and is aligned with the Global Sustainable Tourism Criteria, a set of strict indicators in the business,
social, cultural and environmental issues.
This achievement certainly supports the strong commitment Yacutinga maintains with the environment, with the team that gives its unique identity, and with the community in general. Also, this year, our sustainability performance reached the level of excellence, which is the highest rating given by the Rainforest Alliance.