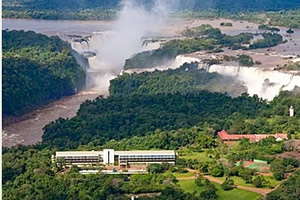 More than 50 hotels of different categories, providing a total of 7000 beds available, open their doors to the millions of tourists who visit every year, challenging the mighty Iguassu Falls in Argentina.
This wonderful natural landscape, located in the Province of Misiones, 17 km from the city of Puerto Iguassu, today has a wide range of hotels, from luxury 5 star hotels to small inns, covering all the needs of the various types of rating:
The classic Sheraton Hotel is known for having a privileged location, as it is the only hotel located within the Iguassu National Park, with a nice view of the water falls. It is ideal for traditional travelers, who choose service Hotel Chains, and prefer to enjoy and explore the falls early in the morning, avoiding the peak hours of the park. Thanks to the large number of rooms that comprise, and meeting rooms, is one of the hotels that manage to accommodate large groups, and host large conventions and events in the City.