Iguazu Falls and Iguassu National Park – Argentina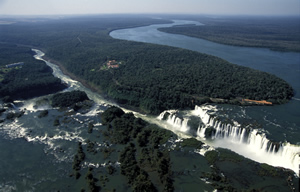 Travelling to the world famous Iguassu Falls means an intense contact with Nature and Local Culture.
Without a doubt the Iguassu Falls are one of the highlights of any travel plan to South America.
These marvellous Falls and the National Park Iguazu have been declared World Site Heritage by UNESCO and recently they have been included as one of the World Natural Wonders of our planet.
Perhaps all these distinctions may sound pretentious but as soon as you get immersed in the vast green of this National Park and start listening to the powerful roar of the waters falling chaotically, immediately you'll understand an unusual natural theatre is opening its stunning show.