4 days and 3 nights dedicated to discover the northeast jungle area of Argentina. It is a pristine place where the past melts with the present. 60 miles east from the famous Iguassu Falls at the border between Brazil and Argentina extends a large portion of subtropical rainforest protected by environmental laws.
This interesting journey is surprising for the adventurous traveller. Away from massive tourism extend beautiful landscapes characterized by rich biodiversity, lush green jungle vegetation in contrast with its red soil.
Powerful rivers and bucolic streams irrigate the forest. Clear blue sky. The curious living history of the Guarani native people, and their relation with european pioneers.
At night, the shout of an owl, the fantastic Milky Way, and the magic of the Jungle by a fireplace at the comfort of Yacutinga Lodge accommodations.
Pioneers of the late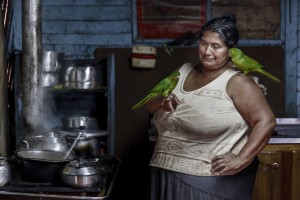 twentieth century came to the area with the hope of a new opportunity of living. They conquered the untamed Jungle with hard work, hope and sacrifice. The stories about jaguars and giant snakes, life with pristine nature as a neighbor, the jungle noises, the Yerba Mate and the local culture are still nowadays, a strict reflection of the tales written by argentine storyteller Horacio Quiroga.
We added to this proposal a visit to the Kagui Pora Guarani Community, the idea is to complement this experience in a rich way, stretching over not only Native Fauna and Flora, but also the experience that mankind encounters day by day with the jungle.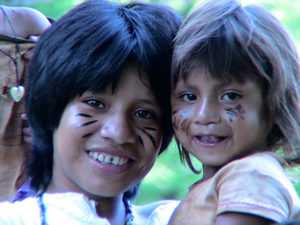 4 days / 3 nights to enjoy the peace of nature, discover the jungle fauna & flora, understand this peculiar social reality of the extreme northeast of Argentina while comfortably accommodated in Yacutinga Lodge.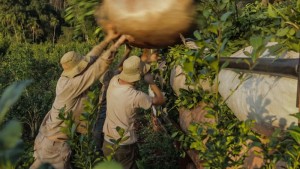 All meals, accommodation, transfers and activities included.
The set of planned activities provide the opportunity to understand the Interior Atlantic rainforest from an Environmental and Social side.
Eco tours: Kayaking trough the waters of the jungle and hikes into the Rainforest; guided by ecologists within the exclusive Yacutinga Nature Private Reserve.
The Yerba Mate (Ilex paraguyensis) plantation tour and the ritual of the Mate.
Without the use of medicinal native plants from the Atlantic Forest, the colonization would not be possible, and because of that we add to this experience the possibility to learn how locals use these native plants for homeopathic medicine; using the traditional mate infusion as a method to intake the homeopathic benefits that some of the plants of the jungle kindly give us. Its tradition is explained given that without doubt it has been the rural homeopathy the one that permitted the settling of the pioneer families in this rural environment. This tradition is still going and shining in this unknown part of Argentina
The visit to the Kagui Pora Guarani Community, enrich the experience while fully understand the characteristics of the lifestyle of jungle people. Comprehending its nature, traditions, myths and legends.
This unprecedented and extremely picturesque experience is a fantastic option to complement the traditional visit to the famous Iguazú Falls.