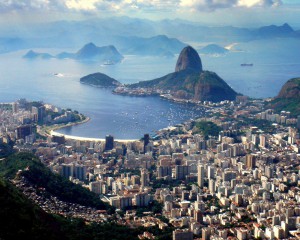 What to do while you're staying in Brazil for the FIFA WOLRD CUP 2014. Brazil is a very diverse country; here is some info of what to do while you're visiting South America's Giant…
Apart of being the site for the World Cup, Brazil has a lot of touristic places. For instance, take the beaches (Rio do Janeiro, Florianopolis or Santa Catarina).Iguazu Waterfalls (not more than 500 kms away from Curitiba, city where a couple of games will take place).
"O pantanal" a place where you'll see the most extraordinary fauna in your life.
Here are some activities you can do while visiting these places:
Florianopolis
-Boteco Zé Mané
It's worth the trek to the mainland for this fantastic boteco (small open-air bar) in Coqueiros. Jazzed-up caipirinhas (R$15) like bergamot, basil and pink peppercorn; and our fav, jabuticaba (an intense, native grape-like fruit), fuel the raging scene here in an revamped colonial house overlooking the waterfront.
-Museu Histórico de Santa Catarina
Formerly the colonial governor's palace, this gorgeous must-see building boasts ornate parquetry floors and extravagant 19th-century ceilings.
-Outing Turismo
Outing Turismo centers primarily to gay and lesbian clients. Floripa is becoming Brazil's second gay capital. Its Pride celebration, Parada da Diversidade, has grown into one of Brazil's biggest, attracting 30,000 people in 2006. The city also hosts 'Gay Pop' events during Carnaval. Gay and lesbian travelers from around the world descend on Florianópolis, which is safer and more affordable than Rio.
Iguazu Falls
Iguazu Falls is one of the most touristic and rich in activities places in Brazil.
On top of visiting the majestic Iguazu Waterfalls, you can explore the area at it's fullest from a lot of ecological and environmental activities.
If you visit the waterfalls you must do it in both sides of them (Brazilian side and Argentinian side).
In my opinion, I rather liked Argentinian side the most, Catwalks over the waterfalls (watch out you'll get a little wet). Tourist guides determined to give you the best info and the best experience while you're there.
I had the opportunity to visit a "special place" while I was in the Argentinian side.
Yacutinga Lodge, not only I was stunned by the architecture of the place; it was the idea of the Lodge what I fell in love with.
At Yacutinga you'll have the perfect mix of nature and comfort.
These place designed in the early 90' has a central idea of "environmentally friendly activities" such as Bird watching, catwalks, guided tours, kayaking on the Iguazu river(don't worry, it's 60 km away from the waterfalls). It's a good place to visit if you're looking for a quiet place not so far away from the Iguazu Waterfalls.
You'll get transported in a truck from Puerto Iguazu (Little town placed on the Argentinian side of the Waterfalls), crossing the Iguazu National Park in not more than an hour and a half, and then into the lodge.
I stayed two nights at the hotel, and fell in love with the "selva paranaense", the activities, the culture and the guarani pople (Natives of the place) that work there helping the bilingual environmental guides.
A good place to know how jungle works and see a lot of colorful birds in their natural habitat.
This is my resume for the possible good activities while you're visitng Brazil for the Fifa World Cup 2014.
Reservas: yacutinga@yacutinga.com