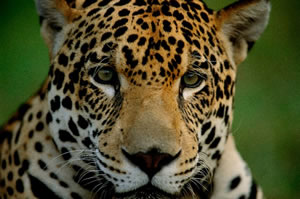 Following the tracks of the jaguar, the "king" of the Misiones Jungle which locals insist on calling the tiger, it's not easy. According to studies by researchers from CONICET, the province of Misiones, only has about 50 adult specimens.
The conservation of the forest is a matter of life or death for the jaguars that due to its strong territorial character and large size, need large spots of unspoiled nature to feed and reproduce; fragmentation and deterioration suffered by the ecosystem it inhabits, is one of the main causes that puts this species on the verge of extinction.
As a result of the disappearance of large areas of unspoiled nature, the meeting of this elusive feline in the dense forest is increasingly bizarre, we can say that it is almost impossible today to find these animals and those who have; life has given them a priceless gift.
In Misiones they only find "refuge" in the Iguassu National Park and the Urugua-í Provincial Park in the north, to the valleys of Cuñá Pirú and Yabotí Biosphere Reserve in the center of the province. Thus, the few regions that conserve the forest in good condition become true natural sanctuaries.